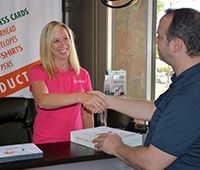 If your needs call for a locally-owned business that is small enough to care about you but big enough to fulfill your largest projects, then International Minute Press of Pineville is your solution! 
During our 25 years of serving the South Charlotte market, we have grown substantially. As our customers and their needs have grown, we have responded by expanding our capabilities and our Team. As as result, we can quickly produce small projects like flyers, business cards, posters, signs and banners - and also strategize with you on your larger needs like direct mail, marketing, or fulfillment projects. As we've expanded into screen printed and embroidered products, we've grown our relationships with branded promotional product partners to produce custom branded pens, mugs, gifts, and more.
Throughout all of our growth, we maintain a focus on one thing: our customer. You. While we have an online portal for order submission and re-orders, most of our customers email, call or come in personally and we know them by name. Our graphic designers guard their brand and our marketers help them promote it. Our production Team ensures the highest level of quality, and our drivers ensure things are picked up and dropped of conveniently. 
Give us a try, and find out how why our customers are so happy.